This returns an HTMLResponse that is the output page and looks like:

The output page has both the entered paper abstract text as well as the predicted topic of the paper.
We now have a fully functional machine learning based web app!
We can run web app by using the command from the webapp directory:
uvicorn --host 0.0.0.0 --port 8080 main:app


In the Dockerfile this is exactly what we do to run this app.
Deploying The App With Docker + Google Cloud Run ¶
---
Now let's go over how to deploy this web app to Google Cloud Run. Cloud Run is super easy to use, cost efficient and requires us to use have Docker to deploy our API and web app. We first deploy our model Rest API as we will need its URL before we deploy the web app. We note the Dockerfile for deploing the model API can be seen here. The first thing to note is that we have to create this image off of the miniconda3 image. The reason for using miniconda is that it already has a lot the dependencies necessary for running scientific Python libraries. The other thing to note is that the API must use port 8080 instead of 8000 as this is necssary for using Cloud Run.
We build and submit the image for the model rest API to the Google Container Registry. We do this from the modelapi directory which contains the Dockerfile with the command:
gcloud builds submit --tag gcr.io/<project-id>/modelapi



This builds an image called modelapi and after the build is complete we see the following:

We can find image the registry from the Google Cloud console:

We can then deploy the modelapi conatainer to Cloud Run with the command:
gcloud run deploy --image gcr.io/<project-id>/modelapi --platform managed



Notice how we deploy the container from the modelapi image in the contianer registry. After running the last commmand we will be prompted with a series of questions about our deplomyment: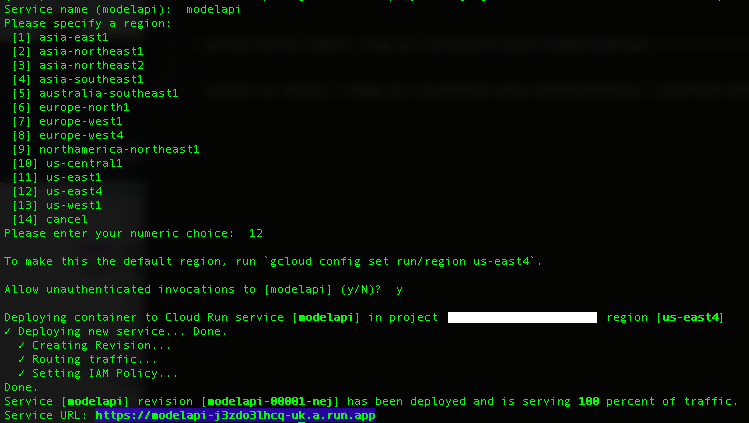 The highlighted URL is the address for our Rest API! We then replace the URL https://0.0.0.0:8000/predict in the webapp/app/main.py with the URL listed in the termal: