Working Over A Network ¶
---
Working over a network to access a computer or cluster is something you will often have to do as a data scientist. The basic way to "log on" to another unix computer is with using
-ssh
ssh stands for secure shell and is a way to operate network services/computers securely over a non-secure network. The way you would access a computer with an address or ip address computer_address using your login name login_name is by the command,
ssh login_name@computer_address


you'll then be prompted for your password and after typing it in you can hit enter. Once on the computer/cluster you can nativate through directories and edit files as we learned above.
Now, how do you get files back to your own computer from the cluster or put files from your computer on the cluser? There are many ways to do this, the easiest involve three things:
File Compression
File Transfer
File Extraction
To compress and extract (uncompess) a file or directory we will use the,
command. We can compress a file or directory with the command,
tar -cvf fine_name compressed_file_name.tar


To uncompress or extract the "tar file" we use the command,
tar -xvf fine_name compressed_file_name.tar


We compress and uncompress the file before and after transfering to reduce the amount of data that must be sent as well as the time it takes to transfer it. In order to get files to and from a cluster or machine we use,
which stands for secure file transfer protocol. You can use sftp just like ssh,
sftp login_name@computer_address


we can then nativate the cluster or computer using the commands we disucussed above. Once we get to the directory with the file we can say,
get file_name


If we want to get an entire directory we use the command,
get -r directory_name


The file(s) will be transfered to the our local machine in the directory we called sftp from. In order to transfer a file from your local macine to a remote machine we first cd to the directory that contains the file we wish to transfer and then call sftp from there. We then write,
put file_name


If we want to push an entire directory we use the command,
put -r directory_name


We can quit of sftp by typing exit from the command line.
One last tool that is useful while working over a netwtork is,
Screen can be used to run programs (on a remote computer using ssh) even after you disconnected from the computer and closed the ssh session. You can also reattach to that sesssion at a later time and continue working from where you left off! Nohup and tmux are also solutions for persisting programs if you are intested in other options. Screen can do much more than just persist a running program, but I won't cover that here. Instead let's quickly go over how to create a session and then reattach that session.
First we create a screen session by typing,
screen


and we then get a terminal pretty much like the one we had before. We can then run our program of choice and detach the screen session by holding the control button, the a button and the d button. After we doing this, we then see in our terminal,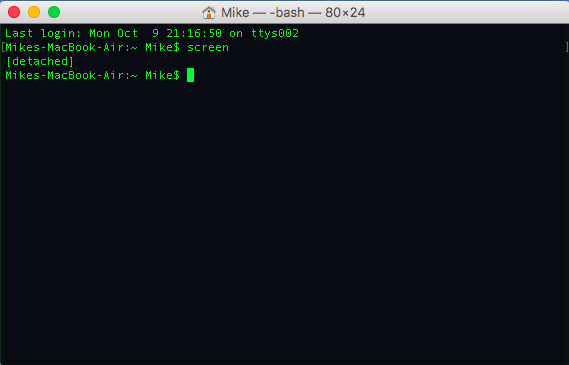 which tells us that the session has been detached. The program we ran will still be running on the background, even if we close our ssh connection. We can reattach the screen session by typing,
screen -list 


and get a list of all the active screen sessions and their id numbers. We find the session we want and re-attach to it using the command,
screen -r <session_id>


Finally, we can kill the screen session by simply typing,
exit


into the terminal. You can see the example of me detaching and re-attaching to a screen session below: