Creating An AI-Based JFK Speech Writer: Part 1¶
---
Introduction¶
---
One of the most quintessential projects to complete when getting started with Deep Learning and Natural Language Processing is using text generation with Recurrent Neural Networks. The internet is littered with examples of people training a neural network on works of Shakespeare and using the network to generate new text that mimics Shakespeare's style. I wanted to do something along these lines, but a little more creative. Many would agree one of the best orators of all time would have to be John F. Kennedy. I am a personally a big nerd of an President Kennedy's speeches and spent many hours listening to his words. So I started this project to see if could write a neural network to generate a Kennedy-like writings.
Speeches written by the President, Senators & Representatives (JFK was all 3) are under the public domain which means they are publicly available! In this first part, I will quickly go over how I was able to create a training set of JFK's speeches.
Web Scraping JFK Speeches With BeautifulSoup¶
---
The first place I went to get President Kennedy's speeches was his Presidential Library's Website. The website has a list of each speech at the address, https://www.jfklibrary.org/archives/other-resources/john-f-kennedy-speeches. The site has quite a few pages with link for each speech as well as the date it occurred as shown below,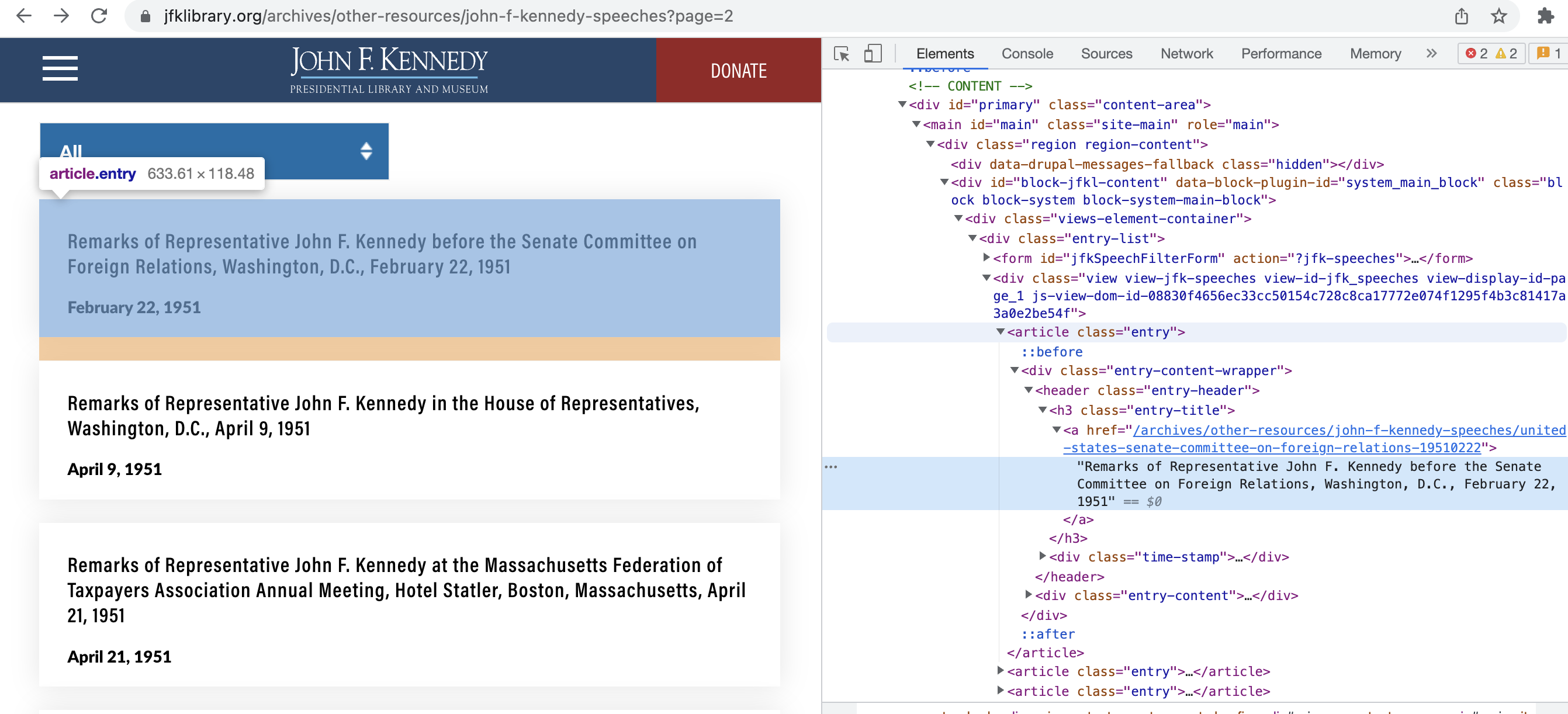 Each page is indexed in the web address by the ?page=N, so I can loop through all the pages by loop from 1 to N. I found where in the HTML that corresponds to each link by using the Inspect Tool in Google Chrome. Each speech is labeled by the tag article in HTML with the link for the speech being given after the href tag.
Once I figured this out, I could use the requests package along with BeautifulSoup to scrape the links from the HTML. I created a simple function to loop over all the pages and create an array of links to Kennedy Speeches from the library's website as shown below.